Let me tell you, uploading these pictures is a pain. If any of you know how to do it quicker please email me! I tried to do a slideshow but blogger wouldn't accept the code! I would put up more pictures if it wasn't like pulling teeth to do it.
The boys building the rabbit hutch.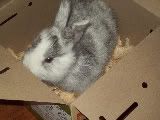 The bunny - Bucky - that lives there now.