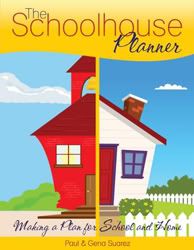 I am pleased today to be reviewing The Schoolhouse Planner. As a confirmed planner "junkie", I have waited for the release of this planner with baited breathe. Honestly, I own almost every planner on the market for homeschool moms. In all of them, there are features that I like, but there does seem to be something missing. I am thrilled to say that this planner has everything that anyone could possibly need......and more.
Contained inside this e-book are informational sheets (such as states and capitals, weights and measure conversions), copies of great American documents (Declaration of Independence, American Constitution and others), household planning sheets as well as school planning sheets. The school planning sheets cover everything that you could ever need for school, all the way through high school. I especially like the 12 year curriculum tracker.
Monthly calendars are included along with holidays and listings of other important days for that month. Many educational opportunities are tied in with each month and resources for the study of those items are hyperlinked through the Old Schoolhouse Store. Shopping and planning couldn't be easier! It is my understanding that there are also monthly modules available (as e-books, the cost is around $8) that expand on the monthly educational topics. I am interested in seeing how these might fit into our homeschool.
The household forms look to be fairly standard. There are chore charts for mom and the kids (some with pictures rather than words for the non-readers) and things like packing lists and gardening layout forms (thank you!).
The best thing about this planner is that you have the ability to type your information onto the pages before you print them out. All of the forms can be personalized for YOUR family. I can't express how much this feature excites me! My planner will look professional from now on!
This planner is absolutely perfect. The creators took great pains to make sure that everything a homeschool mom could ever need is included. I feel that this planner is a great value for all the tools that it contains. I did have a problem with the downloading, as the file is rather large. However, The Old Schoolhouse Store's customer service department was fantastic in getting me an attatchment of the planner.
If you would like to see what the fuss is all about you can view the planner at
The Old Schoolhouse Store
. The cost of the planner is $39.00. This is an e-book so there is no shipping and you will be able to immediately have your planner to make this new school year the best ever.