This is a picture of my older boys.
Greg is on the left and Lee is on the right. They really are best friends.
This is my Sadie. She is a black cocker spaniel....and my only daughter :) She sleeps most of the time so this is a typical picture of how she spends her days.
This is a Bear and a Tiger (Tiger is the cat). I wasn't sure which one is bigger so I laid them side-by-side for a size comparison. I am not sure who the winner is.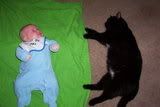 Ironically, Tiger doesn't really like people. He is anti-social. He especially doesn't like ME. He is dh's cat. He bites if you rub his tummy. So I don't....EVER. Suprisingly, Tiger loves Bear. Tiger wants to sleep with Bear, wants to rub up against Bear and goes out of his way to check on Bear. So the anti-social cat likes the baby. Who, ironically, will probably spend the next 2 years pulling Tiger's tail. I guess that every good deed doesn't go unpunished. Especially not in this house :)