I have been playing with my new digital camera and the software on my laptop. Even with highspeed internet it is a pain to upload pictures. But that's ok. I am learning! So I thought that I would share some of the new ones with you.
That is me, feeding Baby Bear (obviously!) at Christmas. He has grown a lot since then!
This is Leland and Norman. They love to snuggle together!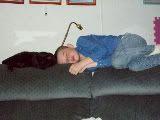 And here is Leland pretending to be asleep on the back of the couch with our cat, Tiger. Tiger and Sadie (our cocker spaniel) always sleep on the back of the couch.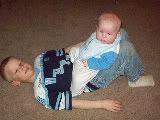 Gregory with Norman. Now that Norman can play more, him and Greg get along a lot better. They are becoming great friends!
This has got to be my favorite photo of the bunch. Dh Norman gives Bear his baths when he is home off work....they take one together in the big bathtub. Thursday Norman put bubble bath in and ran the jets to make lots of bubbles and him and Bear played for a long time. They had so much fun splashing and eating bubbles!
Enjoy!